York University came just short of pulling off a double of being the first school to win the American College Cricket Spring Break Championship, and the Canadian Championship or a regional !
In their Semi Final against a strong Sheridan College, the game came down to a Super Over !
1st SEMI FINALS – 2010 Canucric Champions University of Waterloo vs Ryerson University.
University of Waterloo made 134 for 9 in their overs. Waleed Cheema made 67 whilst Ryerson's all rounder Rahat Mirza got 2 for 36.
In reply, Ryerson over hauled the total, losing only 4 wickets to win. Farhan Khan made 44* and Hasan Mirza 31.Waterloo's Kumar Erramilli took 3 wickets but couldn't stop Ryerson getting to the Finals.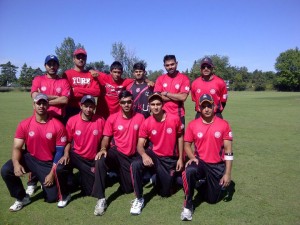 2nd SEMI FINALS – 2010 American College Cricket Champion York University vs Sheridan College    
Sheridan, batting first made 140, Muzammil Ali 47* and Mudassir Ali 40 top scoring.Arsalan Qadir took 2 wickets for 27.
Khusroo Wadia 23, and Hassa Chogtai 20 top scored in York University's 140.
In the Super Over York University scored 15 to Sheridan's 12 runs.
FINALS – York University vs Ryerson University
Khushroo Wadia went from being the top run scorer in the 2010 and 2011 American College Cricket Championships, to playing for Canada and having high scores of 40,56 and 72*.
Against Ryerson in the Finals Wadia smashed 41, but York University only managed 110 all out. Ryerson's Parth Raval took 4 wickets for 9 runs.
Ryerson University won by 6 wickets, making 112 for 4 and replacing University of Waterloo as Canadian Champions.
McGill University beat Concordia by 4 wickets to pick up the plate championship, and serve notice to the teams in the New York area against whom McGill may be competing in the American College Cricket Northeast Championship.
American College Cricket President Lloyd Jodah said, "Congratulations to Ryerson and we hope to see them in Florida. It's great to see our guys at York University get to the Finals -as 2010 American College Cricket Champions they have set the bar high for Canadian schools.
A superb performance too by Sheridan College – we look forward to seeing them in March. 
McGill University has a unique position in sports history in the USA and Canada, having played key roles in the beginnings of football, basketball and hockey.
It has also had a long history of cricket on campus, so I am happy to have worked with Muhammed Tayab Zafar to begin McGill's modern cricket team, and its gratifying to see it develop."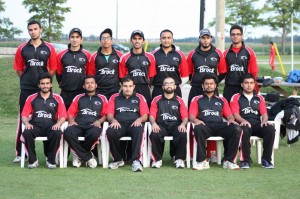 Photos courtesy Mahjuj Jasim Sourav