From the beginning American College Cricket has included Canadian schools in order to assist the development of college cricket in Canada and the USA.
 
We oversaw the formation of clubs at 3 of the premiere Universities in Canada: York , Queens and McGill Universities, and Sheridan College has also a member of American College Cricket. We also obtained the Ramnaresh Trophy for the 2010 Canadian Champion.
This has had the desired effect of causing a boom of cricket at the University level in Canada, supported particularly by Ravin Moorthy and Cricket Canada.
The 2010 American College Cricket Champions York University team received never before coverage in the Canadian and York U media, thanks to its inclusion in American College Cricket.  
Now the 2011 Canadian Colleges & Universities National Championship, Sept 6-9 kicks off the 2011 college cricket season at King City ,just outside Toronto.
King City's 4 turf grounds can allow 4 games simultaneously, in a picturesque setting, on fields good enough for International cricket.
York University has won both of its games so far, amassing 170 for 3 in one game,powered by Canadian national player Rustam Bhatti's 82.
Bhatti scored a century at the 2011 American College Cricket Spring Break Championship
RESULTS OF DAY 1
Brock University 134/all out (Faizan S 43, Saadat D 21/4) def. University of Waterloo 113/all out (Monty P 29/4) by 21 Runs
Brock University 145/5 (Zeeshan A 41, Faizan S 41 & 21/3) lost to Sheridan College 146/6 (Harman Singh 56) by 4 wicketsConcordia University 74 /all out lost to McMaster University 78/3 (Krishna P 8/5) by 7 wickets
McMaster University 106/all out (Kaleel R) lost to York University 109/5 (Aqeel 19/4) by 5 wickets
UOIT 101 / all out lost to Sheridan College 103/6 (Simranjit Singh 12/2) by 4 wickets
McGill University 114/all out. Lost to University of Waterloo 119/2 (Zehair M 36) by 8 wickets
Ryerson University 135/all out (Hasan Mirza 40 & 20/4) Def. University of Toronto 90/all out (Aun M 33/3) by 45 Runs…
York University 170/3 (Rustam Bhatti 82 & Hassan Choghtai 3/18) Def. University of Toronto 142/7 (Marlon Samaratunga 51) by 29 Runs. (17 overs per side)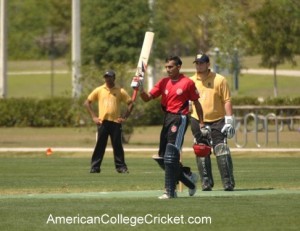 Rustam Bhatti,at the 2011 American College Cricket Spring Break Championship