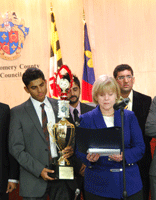 What's a Champion ? Anyone who says Lebron, stop reading, and leave this website now !
In the couple of months in early 2009 that I spent trying to create teams for the first American College Cricket Spring Break Championship, Suchit Laheri called me a number of times. He wanted his college to participate in this new national Championship.
They were the smallest of the names that made it to Ft Lauderdale in March 2009 – the other teams were Boston University, Carnegie Mellon University, University of Miami and University of South Florida.
A collection of friends made up that first Montgomery College team, who drove down to Ft Lauderdale, played a tight, highly competitive brand of cricket, and took home the Chanderpaul Trophy, as the first national Champions of American College Cricket !
There was no blueprint for what the national Champions of college cricket should do, but the Montgomery College guys, led by Adil Bhatti set the standard :
– they were part of the New York Times Video and Article
http://www.nytimes.com/2009/03/25/sports/othersports/25cricket.html
– they were featured in the Montgomery Gazette, their county newspaper.
– celebrated by the school at a special assembly
– honored by the County with an Official Proclamation by County Council President Nancy Floreen
They made 3 trips to New York City to play NY's best young players, particularly impressing with some incredible fielding !
On their final trip they were celebrated at a Bollywood Divas Nite Show featuring movie stars from India, Koena Mitra, Tanushree Dutta, Preeti Jhiangiani, Rakhi Sawant and Mahalakhsmi Iyer.
2010
Montgomery was then featured in a Front Page story of the Sunday Washington Post. That Sunday the President picked up the Washington Post and read about the Montgomery College cricket team !
http://www.washingtonpost.com/wp-dyn/content/article/2010/03/13/AR2010031302470.html
In the 2010 American College Cricket Spring Break Championship, MC seemed over confident, and were knocked out in the round robin stage. However against special guest team the University of the West Indies, despite losing, Montgomery put up a dynamic batting performance, blasting 187 for 3 off 20 overs, with Bhatti scoring 60*.
The team was in the Voice of America News report on the Championship.
– 3 of their players, Adil Bhatti, Suchit Laheri and Ankit Sehgal visited an elementary school, St Patrick's Episcopal Day School to teach the kids cricket.
At the first regional American College Cricket Mid Atlantic Championship,in Fall 2010, a tremendous North Carolina State team proved better.
2011
For the nationals, the 2011 American College Cricket Spring Break Championship, Montgomery changed captains, with the longtime vice captain Sadiq Naseer taking over. Bhatti put in tournament MVP performances, and Montgomery reached the Finals which they lost to George Mason University.
In 2011 Montgomery College's Adil Bhatti was recognized as an American College Cricket MVP, and invited to the National Baseball Hall of Fame with American College Cricket President Lloyd Jodah. Adil did the 9 hour drive to Cooperstown to be a part of the Opening of the historic and unprecedented Cricket Exhibition – "Swinging Away – how Cricket and Baseball connect ".
Now Laheri has taken the reins at Montgomery College – but the guys who have moved on have left a legacy as Champions for others to follow. Now its up to every Championship team to carry out its duties as National Champions as Montgomery College did.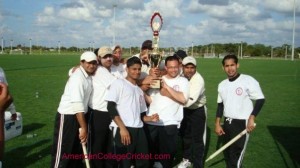 From back ,2009 :    
Udit Sehgal,Mohammed Kamran,Ankit Sehgal,Wali Syed,Vishal Parikh,Adil Bhatti, Amir Chaudhury,Danish Ashgar,Suchit Laheri,Sadiq Naseer,Tahir Chaudhury