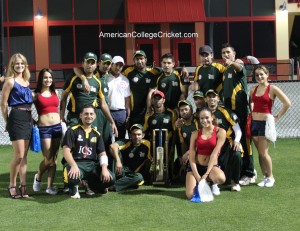 American College Cricket 2011 National Champions George Mason University, and Rutgers University are among 11 US Colleges selected for partnership programmes with India as part of the Obama-Singh 21st Century Knowledge Initiative.  
The announcement was made ahead of the scheduled India-US Education Summit in Washington in October. The schools are :
George Mason University (2011 Chanderpaul Trophy winners) , Rutgers University (2010 American College Cricket Northeast Champions), Northern Illinois University, Queens College (CUNY) alma mater of Jerry Senfeld, Rollins College, Suffolk University, Thomas College, University of Kentucky, University of Oregon (home of 2010 natonal football champs Oregon Ducks), Fort Hays State University and the University of Montana.
The Institute of International Education said each school has made a commitment to form a campus-wide task force to work on prospective partnerships, conduct an institution-wide inventory of activities pertaining to India and develop a strategic plan focused on partnership with India.
The Knowledge Initiative between the US and India, which was announced during Prime Minister Manmohan Singh's visit to America last year, is aimed at developing faculty for select institutions like new IITs.
The initiative will provide USD 10 million in combined funding to increase university linkages and support junior faculty development between US and Indian universities.
"India and its institutions are logical partners for the University because of the growing number of Indian students who come to the US and because UM has areas of academic strength increasingly important to developing countries such as India," said Peter Baker, the international development programme officer for University of Montana International Programmes.
"Higher education is an important area of the strategic partnership between the United States and India because of its impact on fostering collaboration on critical issues that we face today," said IIE President Allan E Goodman. "This new phase of the International Academic Partnership Programme and the strong group of campuses will strengthen the educational ties between our two nations and pave the way for students from both countries to gain important international perspective".
No doubt the other nine schools will begin to take a better look at the India's game, cricket.