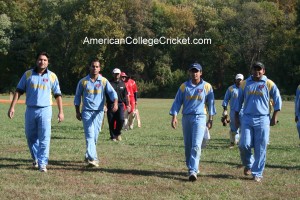 by J.Desai
With a win over Taurids CC last Saturday, UMBC has made it to the playoffs of the Washington Cricket League Division 2. UMBC stands at 8-4-1.
UMBC started off the season with a washed out game, but not before they had scored 224 Runs, in their allotted 40 overs and reduced their opponents, Stars CC, to 35/2 in 7 overs. Rain intervened in the 8th over, and the match was called off. During the washed out match, Eraj Abidi scored 50 for UMBC.  
UMBC continued with the good form by winning next three matches. Captain Gurnish Singh led from the front by contributing useful 65 not out against Metro II. He followed his good form with an awesome 102 and took 3 wickets against Taurids CC to keep UMBC's dominance in Division 2 of WCL. Samuel Lalzare weighed in against Urbana by scoring his first century (116 nout out), and took UMBC to the top of the division with a 3-0 record. 
UMBC suffered their first loss in the fifth match against Elite CC. UMBC's bowling was unable to defend 201 against cautious Elite batting line-up. 
In the next match, UMBC came back strong by scoring 212 against Falcons CC. Rikin Parikh, under pressure and recovering from his leap of faith from 14000 feet the previous day, jet propelled to his score of 98. Gurnish, captain cool, finished it off by taking 4 wickets. With this performance, Gurnish was leading the All Rounders table in the league. 
UMBC lost its next game against the Fighters CC even though scoring 260, their highest score at that time, due to poor bowling performance. UMBC's opening batsman, Digant Samant, scored his second half century in the losing effort. UMBC record was reduced to 4-2. 
UMBC's strong batting line-up continued to dominate, and piled up 267, their highest score in the league, against the Potomac CC. Digant Samant, once again, made a strong statement by scoring his first century for UMBC. Vice-captain Chirag Vani, who aptly supported Digant by scoring his maiden half century (60). They were involved in the highest highest 4th wicket partnership of 186 runs for UMBC. 
UMBC lost the next match against AFCA by 36 runs as its batting, for the first time, failed perform up to its potential. UMBC's batting line-up crashed landed with 145 all out. At this stage in the league, UMBC's record was 5 wins, 3 losses and 1 no result (due to rain). 
UMBC increased their chances to make it to the playoffs by winning next two games comfortably against Hunters CC and Knights CC. Digant Samant scored another 50 against the Hunters to add to his tally of two Fifties and a Century. Samuel Lalzare followed it up by adding another fifty to his tally and taking the UMBC to a victory lane against Hunters by 8 wickets. 
UMBC followed up with their good run with a win against Knights CC by 6 wickets. Dhaval Vaghasia, UMBC leg spinner, bowled an awesome spell to take his first 4 wicket hall. He was supported well by the new opening bowler, Naga Perni, who took 3 wickets. Suryakant Sansare, top scored with 44, and Chirag Vani, scoring 32 not out, played cautiously to chase down the score of 170 comfortably. 
UMBC stood at 7-3 in the Division II, and had to face Metro II again, who are in the same group. UMBC lost this game as Metro II successfully chased down the target of 196 set by UMBC. The match was reduced to 30 overs because of the scorching heat, the hottest day of the season so far with the heat index of 120 degrees. 
Last Saturday, UMBC played their final match of their regular Division II matches against the Taurids CC. UMBC destroyed Taurids by allowing them a score of 95 all out in 22.1 overs. In its authoritative style, UMBC chased down the target, with a quickfire knock, in 13th over. 
UMBC will play their QuarterFinals game Sunday August 7th…….GO UMBC !