Beautiful day, at Baisley Pond Park South…..with a soothing breeze blowing across the field…..I would have loved to be batting, but since I was a bit over 23 years of age, it was great sitting in the shade, watching some exciting cricket.
The NY Youth Cricket Academy was playing Brooklyn Knights in the Under 23 Tournament and a lot of  talented cricketers were present, including me of course and USA player Akeem Dodson (York College).
Wilson and Mars got NYYCA of to a rousing start, knocking 15 off the first over. 15 year old Wilson followed up his 91 from last week with 27 today. 
17 year old high school senior Troy Mars delighted with 68, stroking 7 fours and 2 sixes all over the Baisley Park ground. He drove straight down the ground, over cover and over midwicket. 18 year old left hander Carmichael got into the act with some lovely shots but Umar extracted some pace with his bouncers and Carmichael skied one for the keeper to take the catch. Carmichael got 40 with 4 fours and 2 sixes. 
NYCCA made 200 for 5 in their 20 overs but with Akeem Dodson (York College & USA) and Umar opening the batting, Brooklyn Knights had a good chance.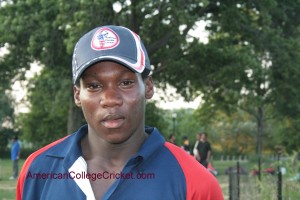 Umar drove over midwicket for 4, then straight drove for 6, was dropped at long on and got 4 runs and Brooklyn Knights were off to a blazing start off Hugo D'Oliveira (York). But D'Oliveira was unfazed and struck, bowling Dodson for a duck. 
The powerful hitter Abdullah Syed joined Umar, who kept hitting everything even as he generously offered the NYCCA fielders catches – which they declined ! 
In the meantime 18 year old left arm pacer Kishan Dass was swinging the ball like he was Wasim Akram, and he soon had three batsmen beaten and caught behind. Two others were beaten by inswingers and out lbw ! 
We would tell you who they were, if we knew, but Dass got them out so quickly they were like phantom batsmen ! 
Kishan Dass finished with 5 wickets for 26 runs in an excellent spell of swing bowling, as Brooklyn Knights were routed for 65 runs ! 
Afterwards, a tasty dinner courtesy of Ricky Kissoon in the twilight summer beauty of Baisley Pond Park, for the players, and happily, for me !
Photo: Troy Mars
OTHER RESULT
(2) Brooklyn Finest defeated NY Warriors @ Marine Park
Four teams to compete in the playoffs on August 19th. @ Marine Park.
Championship Match on August 26th. 3:00 pm @ Baisley South