USA vs IRELAND : At the Clontarf Cricket Club, hosts Ireland snatched a thrilling win over USA. Ireland asked USA to bat first after a delayed start.
USA lost wickets early but late stands by Jodhbir Singh Sandhu (36), Salman Ahmad (21) and Shayan Abdulghani (20) helped the team get 177 for nine in its 50 overs. Barry McCarthy (3-32) and Andrew McBrine (2-21) were the main wickt takers for Ireland.
The USA bowlers  struck early, Ireland slipped to 86 for 6 in its chase before Graeme McCarter (35) and Man of the Match # 8 batsman Adam Coughlan (49) infused life into the chase with a 46 run seventh wicket stand. Towards the end, Ireland lost wickets as Rutgers allrounder Mital Patel was brought back into the attack,was  to be precariously placed at 175 for nine with still three runs to get. Joshua Halls straight drive for four helped Ireland pull off a thrilling win with one ball to spare.
CANADA vs SCOTLAND:  was shortened to 35 overs a side because of rain. Canada scored 212 for 3 at the North County Cricket Club.
Opener and eventual Man of the Match Nitish Kumar scored an unbeaten 100 off 93 balls, with 11 fours and two sixes to power Canada to an impressive total. Support camefrom Kyle Edghill (36) and Rayyan Pathan, 44* off 24 balls.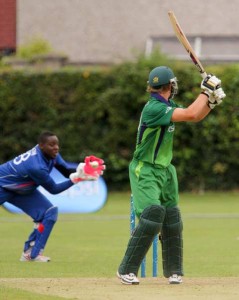 Scotland lost early wickets, but the innings was revived thanks to a 5th wicket stand of 76 runs between Peter Ross (43) and Aman Bailwal (63: 56b, 7×4, 1×6). Scotland thereafter suffered a late-order collapse,and with 11 to get in the final over, Scotland was bowled out for 206 with two balls to spare.
Jobanjot Singh (4-39), Pathan (3-36) and skipper Kesavan Juvarajan (2-29) took wickets for Canada.
Kumar was thrilled to have played a part in the exciting win for Canada: "I started off a bit slow. It was seaming around a bit and the pitch was a bit damp. But once I scored 16 runs off one over, it got me going. I made the most of the batting powerplay. They bowled well, so I ran lots of singles to break the momentum. They batted well and sensibly in the chase. But our bowlers were amazing. This win will give us a lot of confidence."
PHOTOS Courtesy: ICC (International Cricket Council), Rob O'Connor.