The Texas A & M Aggies Cricket team was disappointed at narrowly not making the final four at nationals – the 2011 American College Cricket Spring Break Championship ; though undefeated they earned less points than the winner of their group and did not advance.
However the Aggies took their experience, and excellent performance, and acted like real Champions; they made a Presentation to the appropriate dept of their college about the neccessity of a cricket field for the club, to prepare for future American College Cricket Championships.
President of Texas A & M Aggies Cricket Pradeep Gudlur explained:
"The effort began in May of this year, after Mr Jodah told us at the nationals that he wanted more colleges to get their own cricket fields. I gave a presentation to University Apartments staff.
We used our team's excellent performance in American College Cricket Championship to convince them we needed a separate ground for cricket and why we should be given importance.
The University Apartments is providing the ground for cricket, and also paying more than 50% of the money towards pitch construction and leveling of the ground with new grass.The rest of the money is from our sponsors and donors listed on our website.
The pitch should be ready by end of August. Some portions of the ground will be leveled with new soil and grass sometime in October. So, by the end of October, we should have the complete ground ready .
The field is on campus. There was a thin & long concrete strip present in the middle of the same University apartment grounds ( for people to cross from one end of the ground to other end) and we used to put a cricket mat on the concrete strip and play.
Now this concrete strip will be demolished and only a concrete slab of cricket pitch dimensions (66 ft X 7.5 ft X 4in) will be constructed. Over the concrete slab, we are planning to have an Artificial Sports turf laid."
Vice President Rohan Shirodkar pointed out that, "this will remove the burden of putting down, removing, carrying and storing a mat every time we play. Also the current strip has often proved dangerous because of the unevenness of the surface ."
American College Cricket President Lloyd Jodah said, "One part of our Mission is motivating universities to get their own cricket fields – the return on this investment will be tremendous. Now Texas A & M will be a magnet for International and other students wanting to play cricket, whilst pursuing their studies."
One estimate in 2009 said just one group of students with a "cricket background" – International students from India – poured over $ 3 Billion into the US economy,including tuition fees etc. Its no surprise then to see some University administrations, once its brought to their attention, seeing the value of cricket to their bottom line.
In 2011 alone we know of at least 4 of our member colleges' Presidents have made trips to India to recruit students – being able to speak of having a strong cricket team certainly was a major selling point for them.
Texas A & M will join Ohio State University,Texas Tech, University of Iowa, and Virginia Tech University as universities which have their own dedicated cricket fields on campus. Haverford College has had its own field since the 1800s.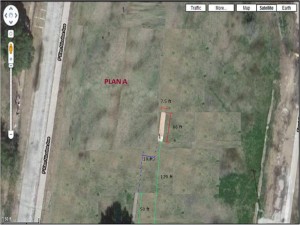 Field after construction below