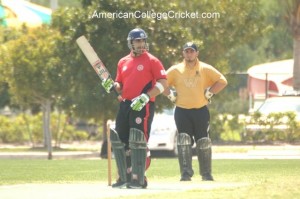 York University's Khushroo Wadia scored the most runs in the 2010 and 2011 American College Cricket Spring Break Championships ( 6 half centuries in 10 innings). This propelled him into the spotlight, and contributed to his selection to make his international debut for Canada at the ICC Americas T20 tournament being played at the Central Broward Regional Park Cricket Stadium in Florida.
Seizing the opportunity,opener Khushroo smashed 40 runs, 5 fours and 1 six, before he was out with Canada on 62 runs. He gave them the start to get 130 runs which was enough to defend against the Cayman Islands, earning Canada the victory. He said, "I feel great about my debut innings , was a bit slow at the start , but I picked up the pace after the initial overs."
In the Finals of the 2010 American College Cricket Spring Break Championship, Khushroo Wadia and Jai Patel put on 76 runs for the opening partnership and Wadia went on to bat nearly the entire innings for 54 runs, before being run out with York University on 162 – they scored 163 for 6 in their 20 overs. York College of NYC couldn't match the daunting total and York University became the Champions !
For Khushroo "It was a great feeling winning the 2010 American College Cricket Championship. It was York University's first year in the tournament and being the only Canadian university in the tournament and winning the Chanderpaul Trophy was an accomplishment.
The Media coverage is the best ! My parents saw the Finals (in 2010) in Kuwait on the webcast – thank you for that !
As a result Cricket Canada is giving more recognition to college cricket. Now a combined college team plays against top teams in the Toronto league. Ravin Moorthy* in particular has been very supportive."
So what's life been like since you were selected to represent Canada in the ICC Americas tournament ?
"It's a great experience being selected. I've been training with the Canadian team – lots of fielding practice and practice games.I am constantly learning and want to keep improving."
The USA Team includes 2 players you'll know from the American College Cricket Championships – one of the USA's fastest bowlers, Adrian Gordon (NYU-Poly) and Akeem Dodson (York College) who you played against in the 2010 Finals.
"This demonstrates the high standard of American College Cricket. Akeem Dodson is a good player , Canada vs USa is always an intense game .. lol. I'll try to keep a blank mind when I face Adrian Gordon , I'll watch the ball, not the bowler."
James Brown was known as the "hardest-working man in show-business", are you the hardest hitting batsman in Canada ?
"Rizwan Cheema is the hardest hitting batsman in Canada"
Well, a powerfully built man, who works out regularly, Wadia is probably the hardest hitting batsman in College Cricket. Wadia was born in Pune, India and his family later moved to Kuwait where he began playing cricket at age 13. He represented Kuwait at the Under 17 Asia Cup when he was 15 then later moved to Canada. He began playing league cricket then saw a hastily pulled together York University team winning the Chanderpaul Trophy open up more opportunites for young players,he said,
"Players get recognition as the American College Cricket Semi finals and Finals are covered live . Any team and individual performances are well recognized.
Also the Spring Break Championship was different, and a good break the usual. Our university team got to tour another country and playing and competing with university teams in the States was good fun. The Ft Lauderdale cricket stadium is a treat to play on."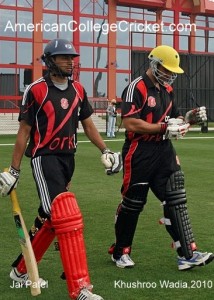 Khushroo's favorite batsman, and cricketer is M.S Dhoni, who led India to the 2011 World Cup title and his favorite bowler is Shoiab Akhtar .So what's Canada's new batsman like off the field ?
"I'm completing my degree in business, whilst pursueing my CGA (Canada's CPA). I listen to Bollywood music, read and like science fiction movies. Then there's my dog, he's very protective of me but a lot of fun once he gets to know you – I like to take walks with him."
Right now I'm focused on doing my best for Canada and making it to the T20 World Cup. Incidentally today I met a lot of the Umpires from American College Cricket – they are officiating the ICC Tournament."
At the 2011 American College Cricket Spring Break Championship York University was one of the strongest teams, but a crucial loss kept them from making the final four. Wadia was amazing with the bat, scoring 58, 28, 67 and 65 (tied with Adrian Gordon NYU-Poly for most runs) earning him a place on the "All American team" (comprised of the best American College Cricket players).
In the game against USA Khushroo smashed 8 fours & a 6 for 56 in 32 balls for Canada !
Top Photo: Khushroo & Ian Carlin (Wooster)
3rd Phto: Khushroo & Akeem Dodson (York College) & USA
* Ravin Moorthy,Cricket Canada's VP, is a member of the Advisory Board of American College Cricket.