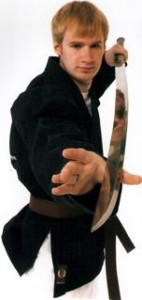 At a quick glance one might think its Jonty Rhodes fielding at point, but this is the University of Iowa Hawkeyes Cricket team and the blond haired fielder is Darren Stortz, striving to emulate his favorite cricketer, Jonty Rhodes !  
Darren Stortz is from Decorah, a small town in northeast Iowa, where his Mom and Dad still live and work. Currently a Senior at the University of Iowa studying for a Bachelor in Applied Studies, with an emphasis in history. Darren started playing cricket recently and says, "I don't like cricket….I love it !"
He joined the University of Iowa Cricket Club three months after it started, "I went to the clinic they were holding in December 2009. I had never actually played. My first official game, where I played and started, was actually our first match at Nationals " (March 2011 American College Cricket Spring Break Championship).
 "Principally I am a fielder, but with aspirations to be an allrounder."
Like John Bart King Award winner Ian Carlin (College of Wooster), who was also new to cricket, Stortz has a tremendous desire to improve, and works hard at his game.
"I feel that I am coming along, but not quite at the pace I would like. Next year I want to be able to contribute more to the team, taking more wickets especially," he said
In the shortest form of the game, 20 overs, fielding is as important as batting and bowling . Consequently a team could have Specialist Fielders who make a huge impact on a batting side's abilty to score runs. As time goes by we expect to see more American College Cricket teams having Specialist Fielders, bringing their athletic skills from sports such as football, baseball, basketball,soccer, lacrosse etc.
Less than 100 miles from where Darren grew up is Dyersville where the movie "Field of Dreams" was filmed. "If you build it, he will come" the movie said . At the University of Iowa the formula was turned around, cricket players came, to study…..and they wanted to play cricket, a club led by Anup Gandhi was formed and they then motivated the school to build a pitch………..
Hawkeyes Cricket was featured on local TV news, and the team committed to the American College Cricket Midwest Championship, but Darren was not able to make the 8 hour trip. He would not miss the nationals in Florida though – the 2011 American College Cricket Spring Break Championship. Darren said :
"I think we performed well at Nationals, but plenty of room for improvement.The trip itself was long to say the least. I believe that any team that had to travel as far as we did actually flew. But we could not afford such luxuries. However the 20+ hour drive was good for team bonding.
I like what American College Cricket is doing, and I hope its reach continues to grow at the rate it is."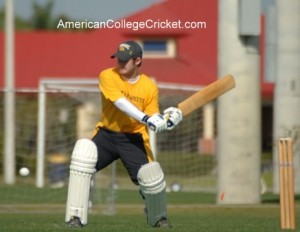 –
Not surprisingly his favorite batsman is Sachin Tendulkar, whilst the young Irish spinner George Dockrell is his favorite bowler. As a 10 year old boy I discovered Sir Donald Bradman through his Autobigraphy in my school library. Similiarly Youtube, and the internet generallly, offers opportunites to glory in the skills of past players. So it was that Darren came to admire one of cricket's top pace duos, Lillee and Thomson; and Kapil Dev as a dynamic Captain showing India the way to its current position as a leader in cricket and commerce.
 "I like the fact that I can say my cricket is 100% Iowan," said Darren. Before cricket he did Martial Arts, and like many American kids played soccer as a kid. He occasionally rock climbs, kayaks and enjoys gaming and reading.
Anup Gandhi, President of Hawkeyes Cricket, about Darren, "Darren is one of our most athletic fielders – he makes some good diving stops. From the first day when he showed up for our Cricket Clinic he's shown a lot of passion for the game, even ordering his own kit from abroad and showing up regularly for practice."
So what next for Hawkeyes Cricket and Darren Stortz ?
"A winning record for the 2011 Big 10 (Midwest) Championship, and the 2012 American College Cricket Spring Championship would be a realistic goal for certain.
After graduation, what ever I end up doing, cricket will remain a part of my life, either professionally or as a serious hobby. "