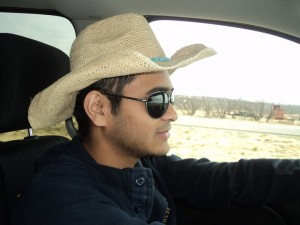 In a short time the Texas Tech Raider Cricket Club emerged as a strong force within American College Cricket, even before they played in any of our Championships.
The Club's initiative, and desire to promote cricket,meant they were immediately in sync with the Mission of American College Cricket.Though he prefers to give his team credit, the strong driving force behind the Club, as President these past few months has been Baiju Shah. 
Baiju will graduate this August with a Masters in Management Information Systems, and will be looking for a career opportunity in the USA.
We spoke with Baiju Shah :
What's your cricket history ? – I was born in India with a World Cup victory just a few years before I was born. Also I saw my Dad playing regional cricket which inspired me to be a part of the same team when I grew up.
(Baiju was also a part of the celebration in Lubbock of India's 2011 World Cup victory).
A fast bowler ,Baiji has been playing since he was about 8 years old "like any other boy in Indian streets" and never had any formal coaching.
Highest level played before coming to Texas Tech ? – I represented my college (Maharashtra Institute of Technology, M.I.T. Pune, India) before I came to Texas Tech. And so I played a lot of Inter-collegiate games in Pune, India.
What do you feel about the opportunities American College Cricket has given you and the Texas Tech team ? 
 I see American College Cricket as a huge impact on not just USA Cricket but also on world cricket, specially for the youth.

For cricket lovers like me, it gave a huge stage to perform on, International stadium and facilities, media coverage and a lot of fan following.
It has helped a lot to Texas Tech Cricket as well. Never before did our university cricket team got a chance to move out of West Texas to play competitive cricket on a National stage. And now, a lot of students here know about the Cricket team and the game of cricket itself. 
What have been the challenges, and how has the club handled them at Texas Tech ?
The biggest challenge, which I consider to be common for all other universities, was getting funds for the whole trip. Travelling from Texas to Florida with a squad of 15 for a week was a huge task. No university would have sponsored such an expensive trip for a small and unknown club like ours. Texas Tech did help but we were way behind our estimated budget.
I then realized, it was up to the players and the committee to face the challenge. We started promoting the game and club through club t-shirts and online fundraisers. That helped us in attracting a lot of eye balls, which in turn helped us in other fundraisers and collecting a lot of donations from the community, local businesses and cricket loving professors. Whatever was short, the players pitched in. 
What was being at the 2011 American College Cricket Spring Break Championship like ?
The whole experience can be described as something like a Cricket Carnival. There were games being played on a number of grounds, cricket loving spectators all around, interviews of players carried on by the sidelines by Mr. Jodah and Mr. DiLoreto and players sitting around the boundaries, some tense, some relieved and some trying to relax before their next game.
Personally, I felt I was treated as an International player. With as much as 30 teams participating, and the way it was organized, there was no doubt about its success and powerful impact on the game in USA. 
What next for Baiju Shah ?
– As a Texas Tech Cricket player, its almost an end, unless of course if I get a chance to play as an alumnus for the upcoming championships. I graduate in August and will look for a career opportunity in the USA. I would highly prefer a place where I can still get to play competitive cricket.
.
Favorite music ? movies ?
– Hip-Hop, Trance and Bollywood.
When not studying or playing cricket Baiju hangs out with his friends, or plays a bit of table tennis or volleyball. Baiju's parents live in Accra,Ghana but visit their hometown of Navsai, India a few months a year, whilst his elder married sister lives in England.  
Baiju said he looks forward to continuing to supporting American College Cricket in the years ahead, and we feel great knowing we have resourceful, unselfish, intelligent students and alumni like Baiju to assist us in our Mission of bring back the original American game – he truly is deserving of being an All American in cricket.