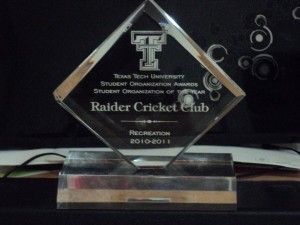 Being part of American College Cricket means a lot of off the field work – it's not merely enough to show up to play but essential to promote the game.
Usually the Club Presidents are the main driving force, but ALL members of the Club are expected to contribute. 
It is astounding the amount of organizational and motivational work that goes into a successful club, and the leadership skills learned and exercised are valuable assets for these leaders when they leave their Universities. They will usually have the confidence to get things done. 
One student was in an interview with a board of medical professionals for his medical residency, and the board looked through the American College Cricket website, saw the stories on his cricket club, and complimented him on his leadership skills. 
The latest of our teams to be recognized by their University is the Raider Cricket Club of Texas Tech. Led by Club President Baiju Shah Texas, and team Captain Rahul Chadha Tech Cricket has quickly become one of the strongest arms of the American College Cricket Mission.
 First the team did a Photoshoot so the school could put them in the University's Viewbook, which is used to recruit students ! Then the club was named Texas Tech's "Student Organisation of the Year" out of over 400 organizations ! 
Next the Texas Tech Sports Clubs Federation awarded the Raider Cricket Club "Team of the Year" !
The Raiders make efforts to get the game attention in their part of Texas, and spread the words of AmericanCollegeCricket.com on Facebook. Imagine what 100 teams like Texas Tech's can do for cricket in America !