A god to millions,Sachin Tendulkar's career speak for itself, and can be Googled. Amongst his countless accomplishments and awards this remarkable man,sportsman and cricketer one more award may not seem like much.
However, the BIG League USA Global Icon Award is set apart because of the part of the world that its coming from, the next frontier for world cricket. Leading the way, as the future of world cricket, American College Cricket is the appropriate context for this Award.
Over 400 young cricketers playing in the USA gathered and watched as one of their own, Shaan Mehta, an undergrad at George Washington University, received the BIG League USA Global Icon Award on behalf of his uncle,Sachin Tendulkar.
Photos by Kristen Ashcom.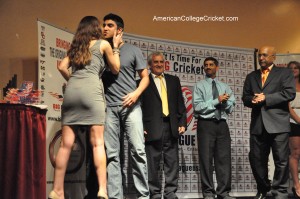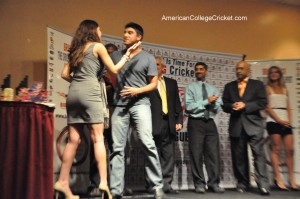 In photos: BIG League CEO Salman Ahmend, founder & President of American College Cricket Lloyd Jodah, American College Cricket CEO Nino DiLoreto, Arvin Varma,USC Asst Dir of Rec Sports, Charles Peterson,UMN