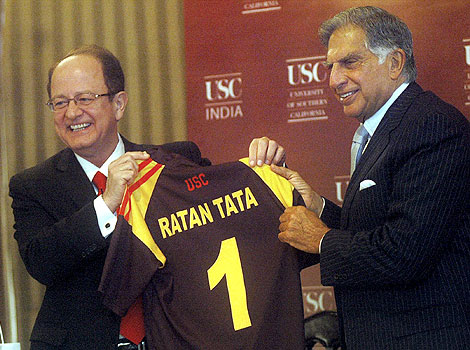 USC President CL Max Nikias presenting Tata Group Chairman Ratan Tata with a USC Trojans Cricket shirt, in Mumbai.
A USC leadership delegation—led by President C. L. Max Nikias, first lady Niki Nikias, board chairman Ed Roski and Gayle Garner Roski—set forth today on a 10-day journey to Mumbai, New Delhi and Bangalore, India.
On their first evening in India, they were hosted by famed businessman Mukesh Ambani, chairman of Reliance Industries, one of the world's largest private conglomerates.
The delegation visited the Indian Institute of Technology Bombay (Mumbai). The IITs represent India's elite higher-education research enterprise, which has spawned legions of innovators in India, Silicon Valley and elsewhere.
USC Trustee Ratan Tata, the Chairman of India's influential Tata Group, one of India's most legendary and successful global enterprises of the past decades and an icon of India's global emergence, is hosting the delegation throughout their visit.
"The USC Trojans Cricket Club was started by Arvin Varma, now an Assistant Director of Recreational Sport at USC, and in the past year and a half, as a member of American College Cricket has grown exponentially with Tarun Sandhu as Club President." said Lloyd Jodah, American College Cricket President.
READ MORE
http://indiadelegation.usc.edu/
Photo courtesy of the HindustanTimes.com