The legend of the Ashes started with a loss to Australia, by England under Ivo Bligh, who went from captaining Cambridge University as a 22 year old in 1881, to captaining England in 1882.
Ivo Bligh was an excellent fielder and attacking batsman. At Cambridge he gained his Blue as a Freshman and was a member of the famous team of 1878, which played eight matches and won them all, including beating the Australians by an innings. Against Oxford, Cambridge won 3 out of 4 games. Against Surrey at the Oval in 1879 he made 113 not out.
Some other College age cricket players who have captained their national teams are Pakistan's Javed Miandad and South Africa's Graeme Smith, both at 22 years old. M A K Pataudi became captain of India at age 21, remarkably only 6 months after a car accident blinded him in his right eye.The world's 2nd greatest all rounder ever, Imran Khan, actually made his Test debut for Pakistan (in 1971), before he played for Oxford University (1973-75).
Of course, in world cricket at the highest levels cricket players, just like males practically every other sport, make their national debut at college age, usually early 20's; Sir Donald Bradman debuted at 20 and Sachin Tendulkar at 16 years of age ! Only in USA cricket is this age shunted aside as "youth" and deemed not good enough for the highest level.
It was not always so, the great John "Bart" King, at age 20, played for the "Gentlemen of Philadelphia" against the touring Australians in 1893, and scored 36 batting at # 11, then wrecked the Aussies with his swing bowling, taking 5 wickets for 78 runs. The Americans beat the Australians by an innings and 68 runs !
Back then too one had to a be a "Gentleman" to captain England, and thus it was the Honorable Ivo Bligh went straight from captaining Cambridge University in 1881 to captaining England in 1882 at the Oval when Australia beat England on English soil for the first time in an extremely close and thrilling game, losing by 7 runs. Fast bowler Spoffort took the final four wickets for just 2 runs.
This led the Sporting Times to publish a mock obituary of English cricket, which stated that "the body will be cremated and the ashes taken to Australia". The ashes of a burned cricket stump were sent to Australia to symbolize the death of English cricket. The following winter Bligh captained the English team which he said was going to Australia to "bring the Ashes back", which the English did. Meeting Murdoch's Australians in three matches the Englishmen, after losing the first won the final two.
After the English victory a group of Melbourne women presented Bligh with a terracotta urn holding the Ashes (variously believed to be of a stump or bail).The urn is made of terracota and is about six inches tall and may originally have been a perfume jar. Since the 1998–99 Ashes series, a Waterford Crystal representation of the Ashes urn has been presented as the official trophy of the Ashes series.
Ivo Bligh played 4 Test matches before illness ended his first-class career in 1883 .When he died in 1927 the urn containing the Ashes was presented to Lords Cricket Club by his widow, and is held in its museum.
The Ashes Test Series is so huge The Wall Street Journal recently reported,"Gamblers will wager some $300 million on the series, and analysts expect the five five-day Test matches to generate an economic impact of around $400 million, roughly the same as when Australia hosted the 2003 Rugby World Cup—an event that involved 16 nations."
The first Test Match between England and Australia was played in 1877 but the first International sporting event of any kind between 2 countries was actually a cricket match between the USA and Canada, in 1844 in NYC – it drew about 20,000 spectators and about $ 1.5 million in bets* ! The USA/Canada cricket rivalry continued for about 60 years and had it continued, it would have been the oldest sporting rivalry between 2 countries !
Starting with 2011 that rivalry will be revived when an All-American College team plays an All-Canadian College team !
*in today's currency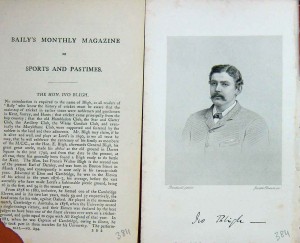 John "Bart" King,greatest American cricket player ever & one of the world's alltime great swing bowlers,shown here in 1906

Adrian Gordon (NYU-Poly),first American College Cricket player to represent the USA. shown being interviewed by Shanae Strachan,Ms Teen Bahamas 2008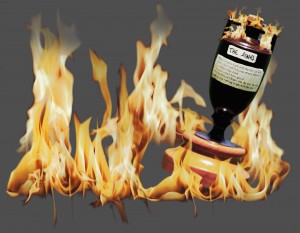 For great Ashes coverage www.Cricketworld.com