Montgomery College is easily America's most famous cricket team at any level . They were featured in a major New York Times story and video in 2009,a Front Page story in the Sunday Washington Post in 2010, as well as a Voice of America News story.Others such as the Sun Sentinel,countless Indian media, Montgomery County Gazette, Pakistani & Afghanistan TV and much more, not to mention their own college website. All this after winning the Chanderpaul Trophy at the first American College Cricket Spring Break Championship in March 2009.
UNKNOWN TO CELEBRATED
Their Cinderella story of a sports team from a college virtually unknown outside of the Maryland area was truly remarkable, moreso because the cricket team was itself unknown at the school ! As the 2010 American College Cricket Championship drew near, and Montgomery College was getting ready to defend its national title the Washington Post took a look at the team's rise, and decided it was worthy of a major Front Page story on the Sunday edition of the Washington Post ! That Sunday, President Obama picked up his Washington Post and read Montgomery's unlikely success story.
SOPHOMORE JINX OF CHAMPIONS ?
However Montgomery were stopped just short of the Semis at the 2010 Championship by their rivals, George Mason University.In fact Montgomery suffered the indignity of barely hanging on to their final wicket, instead of chasing runs, so decisive was Mason's victory. Then at the 2010 MidAtlantic Championship, Montgomery came in looking redeem their reputation but ran into the buzz saw of North Carolina State, the eventual winners of that regional Championship.
Questions were surfacing: had Montgomery lost its mojo ? Were they just not as good as the new teams ? Had success gone to their heads? Were they, like Super Bowl Champs, suffering from sophomore jinx ?
CSI SEEKS ANSWERS
So we sent our CSI (Cricket Special Investigators) to ask the tough questions and find the answers. Suchit Laheri would not speak with media, and Adil Bhatti was tight-lipped but Sadiq Naseer, Vice Captain of the Montgomery team was cooperative, and said:
After thinking a little bit and couple of team meetings and game yesterday Here's where I THINK the problem was:
When we have players like Ankit, Adil and Danish… It's very easy for rest of the players to completely depend on them! And I think that's what was happening! . U need all 11 to be the best!
In 2009 we didn't know how good we were. We had a point to prove that we are the best, and u could probably see the hunger…. Which wasn't entirely there in last 2 tournaments! I guess over confidence?
For example if u remember Last year we lost 2 games in NY back to back… Cuz we had just won the tournament and pretty much didn't take them seriously… But after losing twice the third time I'm sure u remember the laser precision throws and fielding honey Rhodes would be proud of.. And how easily we beat them with some of the best young cricketers in US.
Basically we play wayyy better when we are cornered! Like yesterday the guys were pumped up cuz now we see that we have to prove ourselves again. And we beat Mason by 40+ runs with everyone contributing! And Mason has a very strong team!
I can promise u, the MC you see in 2011 will be better than the MC you saw in 2009! We not taking anything lightly anymore.
Ohhh and definitely missed Mohammed Kamran in regionals! Not to take anything from NCSU cuz they were amazing… But If Kami was there to support Ankit in the Middle overs… We could have had a different result!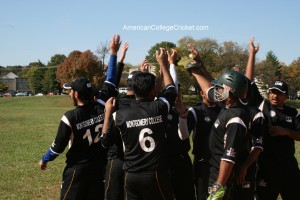 ANY GIVEN SUNDAY
The "yesterday" Sadiq is referring to is a match against George Mason, which MC won last weekend . Montgomery College scored 131 runs, Ankit Sehgal 36, Sadiq Naseer 28 and Adil Bhatti 25. Ankit Sehgal then took 3 wickets and Wali Syed 2, to help bowl out Mason for just 84 runs.
Captain ADil Bhatti said " MC won on a beautiful day.It was completely a team effort from MC. getting on time, showing displine, supporting each other on the field..evryone showed a lot of hard work. We were pleased

with the result..INDEED!! "
Of course to anyone who doubts Montgomery's talent you should have seen them against the University of the West Indies in March. Danish Ashgar, Ankit Sehgal 49 and Adil Bhatti 60* stroked the fast, bouncing UWI pacers all over the ground in amassing 184 for 3 wickets in 20 overs. It was like watching Alvin Kallicharran against Denis Lillee ! MC then had the University of the West Indies on the ropes, before the UWI batsmen took over after losing 5 wickets, to get the victory.
On Any Given Sunday, or other day, a top cricket team can lose to another talented team, and Montgomery has been willing to take on the best. But now it seems America's most well-known cricket team better understands the continued focus it takes to stay at the top, and is coming back as strong as ever !
They will play you any given Sunday, Saturday or whenever, between working and studying.