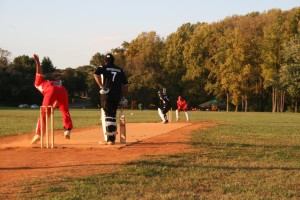 Maryland in the morning,a bit of dew still around, as the first games of the American College Cricket Mid Atlantic Championship began. There would be some really exciting finishes, and even upsets, but that's getting ahead of the games. On a beautiful day in Maryland, just outside Washington DC, college cricket teams took to the field resplendent in new uniforms sporting their school colors. As American College Cricket President Lloyd Jodah said " Thanks to BIG League USA we got the uniforms in time for the Mid Atlantic Championship. The teams are extremely pleased with playing, and looking good doing it! " or as special guest College cricket and USA star Adrian Gordon put it "The uniforms are legit !"  
The first game at Metro field featured Penn State vs University of Maryland Baltimore County (UMBC).The outfield at Metro was rough, and would prove difficult to score on.
 UMBC had built up a reputation, winning the WMCB Twenty20 title 2 years in a row. The heavy air and moist wicket favored the UMBC bowlers who seemed eager to get back to breakfast, dismissing the Penn State Nitany Lions batsmen for just 73 runs.UMBC took just 9.4 overs to win, losing only 3 wickets. Game MVP was Raghav Bharadwarj who scored 63* and took 4 wickets !
However the Penn State Nitany Lions roared back to an exciting tie in their next game, against the strong Virgina Tech team ! Both teams scored 127 runs in their 20 overs with Anirugh Roy and Raja Bhagavathula giving the Hokies a good start, and the game had to be decided in a Super Over ! Penn State Captain Vikram Kumar struck a boundary to win it for Penn State. The tall Akhil Kumar bowled with pace and bounce as he filled in for Rahul Sarnobat (who had to travel elsewhere for a job interview). Kumar so impressed that speedster Adrian Gordon took him aside to offer compliments and a few pointers. 
Virginia Tech then featured in another excruciating heartbreaker, narrowly losing to George Mason in the final over of their match ! Chasing 132 in 12 overs the VT batsmen proved nearly equal to the task of scoring at 13 runs an over. Sixes flew all over the ground, as they got to the final over, needing just 15 to win. But George Mason was able to hold off the challenge and take the victory ! The Hokies had come close once again ! 
At Hyatsville field Anirudh Roy led the George Mason University club team to a victory over a rebuilding George Washington University club team. George Mason scored 165 for 4. Hammad Rafique made 51 (4 fours & 2 sixes), Anirudh Roy 31 (4 fours),Imran Amin 28* (4 fours), Anoop Nair 24* (1 four,1 six). George Washington batsmen could have used more coffee as they were bowled out for just 57 runs. Their star batsman Ishaan Parekh was not able to get going.,Captain Shaan Mehta was not discouraged however, telling Shanae Strachan that "we are building a new team,and expect that we'll be much better prepared for the national Championship in March 2011."  
GWU fast bowler Mehta showed his batting class against Montgomery however, making 35* (3 fours) to take George Washington to 105 for 7 off their 20 overs.British import Douglas Jacobi was match rusty he admitted and only made 7. Jacobi later told Shanae that "when I came to attend College in the US I was pleasantly surprised to find I could get to play cricket -it's wonderful !" Fomer GW Cricket President Hugo Scheckter later claimed to have "recruited" Jacobi. Scheckter's claims are being investigated.   
Montgomery made short work of chasing the total however, Danish Ashgar, the stylish left-handed opener, stroking 9 fours in his 45*. New MC prospect Danish Khan struck 2 sixes in his 16, whilst Captain Adil Bhatti smashed 4 fours in 19*. Wali Syed was not out 11.
The North Carolina State University (NCSU) cricket team was tall and extremely athletic-looking. They seemed to be models for their new uniforms, and onlookers were eager to see them in action. NCSU batted first, and the tight Montgomery bowling kept the scoring down. The NCSU batsmen showed occasional shots of quality but the bowling of Adil Bhatti, Adil Latiwala and Wali Syed in particular kept the NCSU batting from really taking off. Swapnil Gupta, a Phd candidate,scored 32, with 3 fours.Sethu Gopal,contributed 20 (1 six,1 four) runs. 
NCSU took the field, and shocked the Montgomery batting. Perfect line and length,with pace and movement,made the MC batsmen return to the stands as though they were merely out to inspect the pitch ! At 3 runs for the loss of 4 wickets Montgomery was rocked ! and reeling, when Bhatti walked purposefully to the wicket. Two pulls off the backfoot for 2's,an ondrive for 4 and a glorious off-drive along the ground for 2 and Bhatti was making the bowlers look different! A miscued pull however off a short ball, and Bhatti was walking back to the stands,MC on the ropes at 25 for 5 ! Who would have thought ?  
The North Carolina State bowling of Sethu Gopal, Hiren Patel, Suhas Ramesh, Sami Syed and Ankit Mehta was keeping even the big hitting Ankit Sehgal playing defensively. Eventually however Sehgal extended his left leg, and drove over mid-off for 6! Sehgal struck a 4 to give MC hope before he too went. MC freshman Ijaz Khan made a well-played 16
but MC's hopes of winning was like the fading light….almost gone as Hiren Patel kept getting wickets. The game MVP, Patel took 5 wickets for 8 runs !
An amazing series of matches had taken place,as the college cricket movement shapes cricket in the USA, and moves it forward. The players were ecstatic : 
Hardik Parekh of North Carolina State gushed "Great work…super awesome !"
Gurnish Singh (UMBC) declared "Excellent Mid Atlantic Championship…awesome show !"
Anirudh Roy (VT) said:" The VT team really enjoyed playing this tournament.Your mission is a great one, and our team will always support this cause."
Sunday, NCSU plays UMBC to determine which team faces George Mason University in the Finals of the American College Cricket Mid Atlantic Championship .The Finals will be played at Hyattsville field at 1 pm.