The Indiana University Cricket Club has joined American College Cricket ! – What next ? Will they be playing Purdue for the "Olde Oaken Stumps ?
Indiana University was founded in 1820 and now has a total student population on 8 campuses (Spring 2010): 98,999 -IU Bloomington has over 40,000. IU's annual budget is $2.7 Billion. Its a member of the prestigious Association of American Universities and was ranked # 52 in the US by the Academic  Ranking of World Universities in 2009. 
The IU Libraries were named the top American research library system in 2009 by the Association of College and Research Libraries. Of the 25  copies of the "First Printing of the Declaration of Independence"  printed on July 4, 1776 one copy is displayed, as is George Washington's letter accepting the presidency of the United States. Now if only it had the cricket bat George Washington played with at Valley Forge !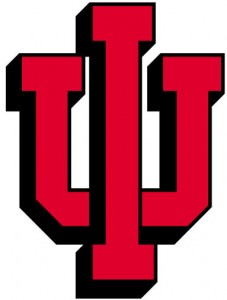 The Cricket Club's Aoun Jafarey attends Kelley Business School which is ranked as one of the top in the US.
In 1998 IU became the first American university to make Microsoft's software available on campus, and in 2004 Intel named IU Bloomington the No. 1 wireless college campus. IU Professor Rolla N. Harger invented the Drunk-O-Meter in 1931  and Alfred C. Kinsey and his co-researchers published Sexual Behavior in the Human Male in 1948.
Michael Uslan, producer of 1989's Batman, as well as subsequent Batman movies, taught a course in comic book history whilst a law student at IU in 1974. In 1996 the John Mellencamp Pavillion opened, named for the rock star noted for hits like Little Pink Houses, Jack and Diane and the Chevy Silverado truck commercial heard on every NFL game last season it seemed.
 HOOSIERS SPORTS
The IU athletics endowment is $32 million.  
Since 1909 "Gala Day" has coincided with the IU vs Purdue football game, and in1925 the "Old Oaken Bucket " was played for by the 2 rival schools for the first time. The rivalry was taken to new heights from the 2001–02 , when IU and Purdue began competing for an all-sports trophy called the Crimson & Gold Cup. The football team lost to USC in the Rose Bowl in 1967 but won Bowl games in 1979 and 1991.
The Hoosiers have won 6 men's swimming & diving titles, 7 men's soccer titles and are renowned for their basketball team which has won 5 national championships, including in 1981 led by later NBA great Isiah Thomas, coached by Bobby Knight. "IU teams have won or shared 157 Big 10 Conference championships" according to IU's website. IU is also strong in many non-varsity "Club" sports such as ice hockey and rugby- hopefully cricket will take its place on that list. 
1951 IU held the first Little 500 bicycle race.The Little 500 is the largest US collegiate bike race and was even attended by Lance Armstrong.It raises funds for scholarships.
President of the Indiana University Cricket Club Prolay Mondal talked about Hoosiers cricket :
"The Hoosier Cup 2010 is a heavy tennis ball tournament. This is the first time we are hosting it and we are hopeful that we'll be able to start organizing season ball tournaments in near future. We have eight teams participating this year; two of them are from Bloomington and the rest is from outside.
 IU cricket club participated both in 2009 and 2010  Indy Friends Club hard tennis ball tournaments and were 1st runners up both the times. We don't have a hardball team but some our players play in the Midwest Cricket League."
IU's Aoun Jafarey added:
"Once every semester we hold a workshop to spread the word about cricket amongst the local American population at Indiana University."
Captain Ashish Karia said:
"We're looking forward to taking on the other Big 10 schools at the American College Cricket Midwest Regionals, and the national championship at the 2011 American College Cricket Championship at Spring Break in Florida."
TRADITIONS
One of IU's traditions is that a female student is not officially a co-ed until she has been kissed under the dome of the Rose Well House at midnight. Since 1991 the IU Dance Marathon, where hundreds of IU students dance for 36 hours, has raised over $ 7 million for Riley Hospital for Children – maybe there will be some Bhangra or a Jai Ho breakout next time.
Alumni include – war correspondent Ernie Pyle IU's School of Journalism alumni have won more than 30 Pulitzer Prizes ), swim great Mark Spitz, Will Shortz- longtime editor of the New York Times crossword puzzle, Hoagy Carmichael, Isiah Thomas.