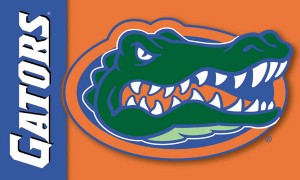 It took 18 months to happen and now, out of "the Swamp" the Florida Gators are ready to invade American College Cricket ! Dynamic new leadership of the Gators Cricket Club is working with American College Cricket to get the Club ready for the national championship in March 2011, and the South East College Regionals in November 2010.
With the huge Gator Nation behind everything UF does, the Gator Cricket Club potentially has an enormous fan base !
The University of Florida (UF) has won national championships in Football in 1996,2006 and 2008, and 8 SEC Championships.It has produced 3 Heisman Trophy winners, including Tim Tebow who,statistics-wise, could be considered the greatest college football player of all time. The NFL's all-time leading rusher, Emmet Smith, is a UF Alumni.
In basketball the Gators made the Final Four in 1994 and 2000, then in the March Madness of 2006 won the national championship. The Gators have also won national championships in other sports such as Track & field,tennis (women), soccer and swimming.
According to the University "Since 1986 there have been more than $100 million in capital improvements (of sports facilities).The project lists includes two major expansions of the football stadium, a multipurpose athletic fieldhouse, new facilities for tennis, track & field, soccer, baseball, golf, softball, swimming and lacrosse."
As one of the country's top sports program for decades, this could mean wonderful things for a strong Gator Cricket Club – it wouldn't be surprising if they get their own cricket field within a year -after all these are the Gators !
BUDGET OF OVER $ 4 BILLION
The University of Florida is one of the top public universities in the USA and US News and World Report recently ranked it 53rd among all universities, public and private in the US. It is an elected member of the prestigious Association of American Universities (AAU), an organization of 63 American and Canadian research universities.With an enrollment of about 50,000 the University has an annual budget of over $ 4 billion ( imagine if a tiny bit of that went to cricket !). International Students account for about 9.0% of the student body.
Founded in 1853, UF has 16 colleges which offers over 100 undergraduate majors and 200 graduate degrees. Its Reserve Officer Training Core (ROTC) was founded in 1905 and offers commissions for the Army,Navy,Marine Corps, and the Air Force.
JOHN J TIGERT
UF has a small historical connection to cricket through its 3rd President John J Tigert. Born in Nashville, Tigert went to Vanderbilt University and was chosen as a Rhodes Scholar. Whilst at Oxford University he participated in University cricket.
As UF's President he had a long list of accomplishments including the building of the the Gators first football stadium in 1930,since known as "the Swamp". Also, appalled by the under the table payments to college athletes that were prevalent at the time, Tigert advocated the grant of scholarships to athletes and thereby began the current scholarships for athletes programs we have now.
After resigning in 1947 as university president, Tigert worked as an educational consultant to the government of India.
ORANGE AND BLUE vs UMIAMI and AUBURN
The school colors are orange and blue and the alligator has been the school mascot since 1911. The Gators' traditional rivals were UMiami and Auburn, but with rearranged Conferences, they play rarely now – these rivalries will revive this November when the 3 schools meet in the SE College Cricket Regionals.
Gator trivia : Gatorade was invented at UF in 1965 for the Gators football team. In the groundbreaking hit 80's TV show "Miami Vice" one of the stars, Sonny Crocket was a former Gator football player. Fast food chain "Wendy's" real life Wendy Thomas is a UF Alumni.
MEETING WITH CRICKET SUPERSTAR ?
The Gator Cricket Club President is Krishnarao Dase (K.D.), Vice President and Captain is Sandeep Pillarisetty and the Faculty Advisor is Dr. Richard Hill.
The team has a long way to go in acquiring uniforms,equipment and facilities but it already has a cricket star, (Vaibhav) Ricky Nayar, who was Vice-Captain of the USA Under 15 team. Nayar was MVP in games against Bermuda & Canada and MVP of the entire 2006 ICC Americas Cup.
This October, his schedule permitting, there is a possible meeting and coaching session for Gator cricket players with International Cricket Superstar Shiv Chanderpaul , welcoming them to American College Cricket !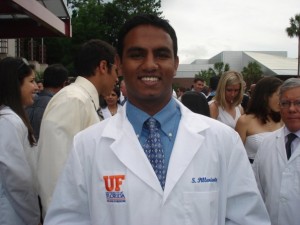 Gators Cricket Captain & future Dr, Sandeep  Pillarisetty