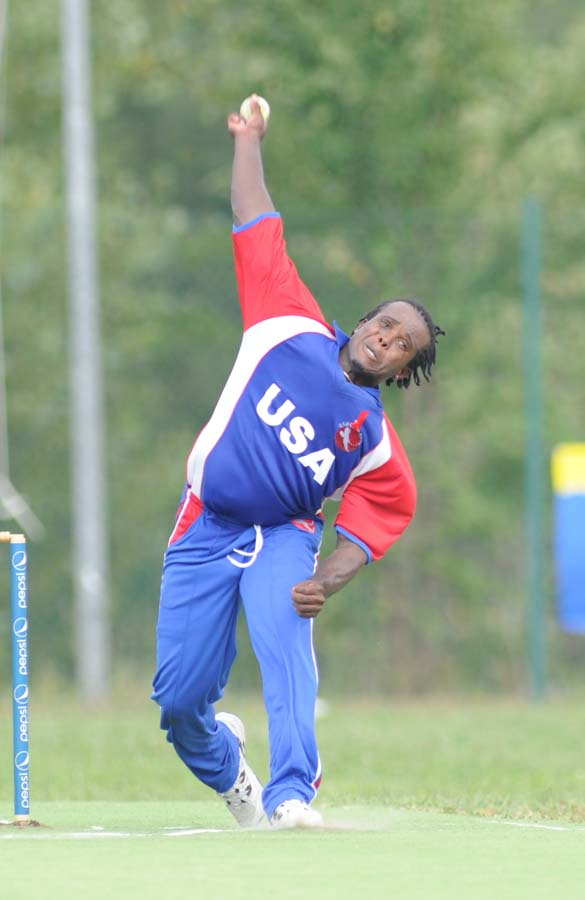 Adrian Gordon
, a student at New York University-Polytechnic (NYU-Poly), is now the USA's main strike bowler. One of our fastest in the country, Gordon's bowling was a key element in the USA winning all but one of the games in the ICC World Cricket League Div 4 in Italy. The USA now advances to Division 3, one major step closer to earning a place in the 2015 World Cup. 22 year old Gordon will still be in his prime as a fast bowler at that time.
Gordon took 3 for 21 against Tanzania, 3 for 25 against Argentina and wrapped up the tournament by destroying the batting of Italy, taking 4 wickets for 35. Italy had beaten the USA ,earlier in the tournament in a game which Gordon did not play.
Gordon's rise has been phenomenal since the 2010 American College Cricket Championship,helped by special training provided by American College Cricket and 24 Hour Fitness Derek Jeter to build on the guidance from Adam Stanford.Not tall, but built like Bruce Lee Gordon generates speeds over 80 mph.
We asked Special Force Adrian "Flash" Gordon (NYU-Poly) some questions whilst he was waiting for a plane in Amsterdam:
What was Italy like for a cricketer ?
Adrian : well it was just like any other country… i went to play cricket.. i had to blank parties out and concentrate on what goal i went to accomplish.
A fast bowler is like a modern day gladiater, as is a batsman,- did you visit the Roman Coliseum ?
Adrian: no i didn't, cause we played like 5 days straight because rain disrupted 2 matches so they had to be played on our scheduled rest days.
Did people come to watch the games ?
Adrian: yes people came but not like a lot but we had some supporters…well the other teams.
What made you have such a success in this tournament – was it your pace ?
Adrian: well it was actually my pace combined with a consistent line and length… disciplined bowling.
You were the USA's most successful bowler on this tour,how does it feel to have contributed so significantly to the USA advancing to Division 3 of the World Cricket League ?
Adrian: well it feels marvelous lol to be a part of a great team.
You spent part of the summer in the Caribbean – did you continue with your training you had begun in New York ?
Adrian: yes i did..
You're coming back in time for the Sundar Memorial Event where you'll be playing for the College All Stars team -think some of the batsmen like Andy Mohammed and Kaveshwar Bridgepaul will be gunning for you ?
Adrian: mmm well i don't know but i will be coming hard lol
October you'll lead the NYU-Poly team in the North East Regional College Championship, what do you think of NYU-Poly's chances against York College which will have batsmen like  Akeem Dodson and Karan Ganesh ?
Adrian: well we have a great chance against any team once our players stick with the game plan and also we play each game hard as if it's the championship game
In January the USA team will travel to Hong Kong fro the ICC World Cricket League Division 3 Tournament then in March Adrian Gordon will lead the NYU-Poly cricket team in the 2011 American College Cricket Spring Break Championship in Ft Lauderdale.
Photo courtesy of the ICC.