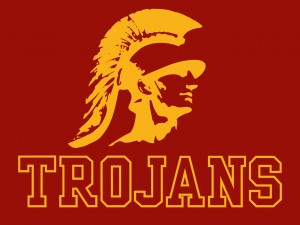 GAME 7 : USC vs Victoria, Venue: Carson, CA
Conditions: Overcast for the initial 90 minutes, bright sunshine for the rest of the day. TOSS: USC win toss and Bat first
Score Summary:  USC : 106 all out in 30.1 overs ( Tarun Sandhu 24, Jeet 18, Jaskaran 16) Nagaraj 5/16, Arun 3/16
 Victoria: 29 all out in 17.4 overs  Jeet 4/7, Sandhu 2/9, Ashish 2/7
   
The Trojans bowling attack send a very strong message to all teams in the Southern California Cricket League (SCCA) with their outstanding performance at Carson.
Victorian hopes lay shattered just 30 minutes into their batting as their team were at a miserable 9/6 in just 8 overs at Lunch. It didnt take long for the Trojans to wrap up proceedings to have Victoria bundled out for their worst total ever in the history of the club in the last 20 years. The performance was reminiscent of last year's USC vs Cal Bel Game where the Trojan bowling unit blasted through a much endorsed Caribbean batting lineup in just 12 overs; recording the best bowling performance by USC in their entire history.
That record was almost broken yesterday with Victoria showing a spineless batting display against some intelligent bowling by USC. A defeat of this magnitude for any team is bound to cause mental trauma and nightmares.
Morning proceedings started with USC winning the toss and facing a conundrum of whether to stick with bowling 1st under a heavy cloud cover or being brave and batting 1st in hopes of the pitch deteriorating in the 2nd half of play. Tyagi went with the braver decision and USC opted to bat 1st. Just 3 overs into the innings the decision seemed to backfire as Tyagi played a loose shot straight to the man at cover to be dismissed for only 1.
Sandhu and Bharat stuck to the task on hand and blunted out the Victorian seamers. Both batsman cut out the risks and hit only the bad balls to keep the scoreboard ticking along. Bharat played an exquisite six over the cover region and looked in good touch. A rare loss of concentration lead to Bharat's dismissal in the 11th over as he bottom edged a wide ball through to the keeper. Mishal Patel joined Sandhu to rebuild the innings and the two batsmen saw proceedings through to the 1st drinks interval with USC at 50/2 in 15 overs.
Soon after drinks, Sandhu who had been patient against Nagaraj, went into adrenaline mode as he stroked a fuller delivery through mid on for a welcome boundary. However Naga had the final laugh as he breached Sandhu's defense in the same over. Two overs later, Mishal was trapped LBW by Nagaraj and Thimmaiah was unlucky to edge one through to the keeper down the leg side for leave the Trojans bleeding at 56/5. Some relief was offered by Victoria though, as their captain Rajan, surprisingly brought himself on. Rajan bowled full tosses, rank short balls and Jeet and Jaskaran took full toll to add some quick runs on the board. Jaskaran masterminded his own demise after looking good for the most part, a half hearted push back to the bowler ended his innings. Dushyant and jeet stood up till the 2nd drinks interval and USC were 100/6 in 28 overs. 
 Hopes of another assault by Sharma, like he did in the 1st game against Victoria vanished instantly as he got out 1st ball after drinks. Jeet too played a lose shot in the next over to throw away his wicket after a promising start. Kiran and deepak didn't do much to add to the scoring as the lower order crumbled to end USC's innings at 106, which happens to be USC's lowest total batting 1st. Nagaraj was the architect of the Trojan collapse as he retained his #1 ranking on the top wicket-takers list by picking up 5/16.
The umpires decided to continue play for 8 more overs till lunch was taken. Victoria would've been feeling very confident getting the Trojans out for just over 100, Victoria ranked #2 coming into this game, would've set their aim on reclaiming #1 spot by ensuring a victory at Carson. The odds were stacked against USC, after dismal performances in their last 2 games. The Trojans took field and Jeet hit the right areas almost immediately. A couple of balls went in the air and USC sniffed a chance early on. Sandhu's injury worries seemed to escalate as he resorted to a 2 step run-up without bending his back. Sticking to his outside off line, he was rewarded as he picked up the Capt. Rajan who was caught at slip by Deepak. Jeet scored in the next over as Srikanth flicked one straight to Mishal at square leg. The Victorian dressing room was still licking it's wounds from the loss of the 2 openers as Sandhu opened the gates by having Vignesh caught at midwicket by Tyagi for a duck. In the next over, Jeet swung the ball like a banana to dismiss both Arun and Nagaraj for golden ducks in the same over. Both Batsman were absolutely clueless and Jeet's clever lil plan worked perfected. 5 down for 9 runs, the Trojans went for the throats as a maiden over later, Jeet had Garuda caught at mid on by Sandhu. The umpires decided to rescue the clueless victorians by calling Lunch with Victoria stunned at 9 runs for 6 scalps down.
After lunch, Ashish and Dushyant replaced Sandhu and Jeet and both immediately carried on the good work done by the earlier pair. Sunil was caught brilliantly by Thimmaiah behind the stumps to undo any resistance that Victoria had to offer. High drama ensued as Ashish bowling fast as ever, had a few things to say to batsman Rajneesh after he looked bamboozled by Ashish's pace. As he missed one from the bowler, Ashish during his run through offered some advise to the batsman and Rajnesh foolishly followed Ashish back to his run up to retort. Sandhu showed good presence of mind to flick off the bails and appealed to the leg umpire for run out. Rajneesh was ruled "Run Out" after consultation from both the umpires. Victorian captain and other frustrated top order batsman who had scored "Golden Ducks" took the opportunity to vent their frustrations following the umpires' decision. It took just two more overs by the Trojans to celebrate a famous and sweet victory. Full credit goes to USC for bowling smart and picking up this all important win which puts them back into contention amongst the pack leaders in the group. Victoria's fall from grace was hardly graceful to say the least.
In-spite of the glorious win, the after game talk mainly revolved around the batting display. For 3 consecutive games now, the Trojan batsman have bundled out around 100. Big headaches for the Trojan think tank as they have to cease the slide in batting momentum. While the bowling stepped up to carry the infant batsmen through this game, it's about time the Batsman showed more resolute and resiliency to battle the storm. Next up is USC hosting San Diego at home next weekend. USC already won their away game in SD in May and SD is fighting it's way back into contention in div 2 by bringing back Hammad Shahid (USA U-19) pace bowler within it's ranks. It will be a battle again for USC and hopefully they can iron out the batting woes. While the bowling unit would be enjoying cold suds in the jacuzzi, the batting unit will be sentenced to the dungeons, hoping and praying for better sunny times. One can only imagine the horrors inflicted on the Victorian team, perhaps Cal- Bel can offer them some assistance and perhaps lend a shoulder to "whine" about..  While Reggie Bush's Jersey #5 is being taken down at the Coliseum, perhaps a more suited replacement would be the 2 famous victories by USC Cricket team.
Cheers and Fight On,
For complete Scorecard please visit: – http://www.sccacricket.org/cricket/Scorecard.aspx?Match=217
Tarun Sandhu
President
USCTCC __