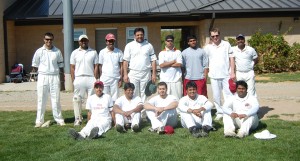 The Hokies have joined American College Cricket ! and they have their own cricket field and pitch !
The Cricket Club of Virginia Tech (CCVT) is a registered non-profit organization which was established in the summer of 1996 at the Virginia Tech. CCVT is part of the Mid-Atlantic Cricket Conference (MACC) league which comprises teams from Virginia and North Carolina.
CCVT plays an average of 12 regular season matches, before the playoffs. Practice sessions and warm up matches are scheduled in the regular season.CCVT also organizes numerous tape ball cricket events during the off season.
The Hokies will be a strong force in the 2011 American College Cricket Spring Break Championship. This season in their League they have secured a place in the Playoffs, with a record of 7 wins vs only 2 losses. In 2000 the CC of Vriginia Tech reached the Finals.
Team Captain Rajaram Bhagavathula says :
"We also have a cricket field. Until last season we had a half pitch. This season we got a full pitch, we play on a full matting wicket. We also have lighting facilities, almost all our practice sessions are under lights.
We also get a lot of support from Virginia Tech every year, they provide funds for equipment and maintain the fields.
When will the registrations for 2011 Championship begin? We are very eager to be a part of ACC."
Their players include :
Anirudh Roy, who has scored a century this season, 124.
Hameed Khan who opens the bowling and is consistently among the wickets, with a top performance of 5 for 19.
Swapnil Seth has given some good allround performances.
Yash Patel,Umair Surani,Haseebullah Sayed and Nagendra Krishnamurthy also excel with the ball.
Karthik R and Rajaram Bhagavathula have also been among the runs whilst Sathees Kesavan opens and is their most consistent batsman this season.
Final Regular Season Match Report – 7/25/2010 (35-over match)
-VTCC defeats CVCC to seal a place in the play-offs
Match Report
CVCC won the toss and elected to bat on what was expected to be a hot day. The CVCC openers started cautiously against the opening pace attack of Hameed and Swapnil. VTCC drew first blood when Angad fellplaying a shot uppishly in the extra cover region. Hameed followed suit by bowling a good bouncer to Kunal, having him caught in the second slip. He was soon followed by Vamsi, who was beautifully bowled swinging ball from Swapnil. With the three quick wickets, VTCC were on the offensive and going for the kill.
However, Ashish and Intakhab came together for CVCC to play sensible cricket, seeing off the new ball bowlers. They played patiently waiting for the bad balls to hit, otherwise happily defending. VTCC bowlers Rajaram, Zeshan and Nagendra bowled with good discipline through their spells, waiting for the batsmen to make mistakes. The extremely hot conditions were not helping the bowlers or batsmen either. Just when it seemed the batsmen were well-settled, Pritish produced a fielding beauty by getting a direct-hit from midwicket to find Intakhab short of his crease. Another wicket down, then in came Azeem, who produced a good innings of controlled aggression, smashing balls bowled on his leg and otherwise, cleverly pushing around for singles. Good diving catches by Rajaram and Aditya and some good seam bowling by Swapnil snapping up 4 wickets were the highlights for the VTCC. CVCC ended up with a score of 190 from their full quota of overs.
VTCC had to chase down a big target and hence, started off aggressively. The first two overs of the innings set the tone for VTCC, with runs coming quickly both off bat and off extras. Sathees started in his typical fashion hitting sixes, particularly notable being the huge six over midwicket region from what looked just a mere flick. Srikanth soon followed his partner, nudging around singles and hitting the bad balls for boundaries. To control the run rate, CVCC brought in Abhjith who bowled a good spell of controlled medium pace. Sathees finally fell, going for a big shot after adding 79 runs for the opening wicket in less than 8 overs. Srikanth had a good partnership with Kartik before finally falling while going for a big hit straight down the wicket. Kartik batted nicely to notch up an unbeaten half-century. He was given good support by Ejaz, both of whom made sure that VTCC won without any further hiccups. With this victory, VTCC have sealed a place in the play-offs. Great job guys!
Go Hokies!!!
Thanks to the MBCC umpires for standing through the unbearable hot day and good consistent umpiring.
Thanks to CVCC for their hospitality and for the lunch and drinks!