Cricketers 20 to 25 year old in the USA have had a hard lot, no wonder their numbers are small. In any other sport being at the peak of their physical prowess would earn them opportunities, instead of discouragement.
Yet there is hope on the horizon as the college cricket movement grows and more and more talent come to the surface. After all, excelling in a college sport in the USA can possibly make one an American sports star.
When Saisitaram Ramesh left India to pursue his Master's in Electrical Engineering in the USA he did not know "if he would be able to play cricket again". Sai Ramesh had begun playing cricket at age 5, in Delhi India and made it onto the Delhi Under 15 Team. 8 years later he moved to Chennai and played First Division Cricket for Sanmar Chemplast, which according to Ramesh won the Championship multiple times. He also captained the South Zone University Team and at one point was on the list of Under 19 probables for India he says.
After starting at the University of South Florida Sai contacted the Central Florida Cricket Association (CFCA) and played a few games. Sai thanks David Maitland who invited him to play in the South Florida Cricket Alliance. Sai said:
" In 2 months I struck 3 centuries (156, 153, 114) and 2 fifties (51,76)".
Sai Ramesh was awarded the MVP, Best Batsman, and also was given the Most Centuries Awards in the same tournament – the SFCA SIMMS CUP.
Fresh from these performances 23 year old Sai went into the 2010 American College Cricket Spring Break Championship and, with his off-spin was the Muralidaran of the Championship helping to take the University of South Florida to the Semi-Finals. Twice he wrecked teams' batting to give USF wins.Sai also scored 51 in the Semis and was selected to the All American College Team.
We asked Sai Ramesh some questions:
Do you do any Fitness training ?
I do a lot of strength training ! mainly back. I think as a batsman , my back needs to be strong always ! Running comes with it on a daily basis !
What cricketers inspired you early on ?
Sachin has been the one always ! He s probably one in a million ! But on a reality check, I like Dhoni as much coz that's the way I bat ( technically not the best, but very effective and a game changer). Mentally you need to be strong for the game ! and he has that !
What do you think of batting on matting wickets ?
Frankly, I think , batting on matting is easier than on turf…On matting the ball comes with a true bounce most of the times…in turf ball skids on…the transition isn't too tough.
You bowled devastating off spin at the 2010 American College Cricket Championship & at the USA Cricket SE Regional Tournament , what's the key to your bowling success ?
Off-spin is my art ! Hitting the good lengths is the only key…You are bound to get hit for a six sometimes…but i know , the next ball is going to be mine ! T20 is a big challenge for an off-spinner.
When I was a kid, I used to practice in JawaharLal Nehru Stadium in Delhi….My coach then was Mr.Tej Col(former Indian team Physio) .. I bowled 4 wides in an over…After the game, Col sir made me run 40 laps of the stadium…i never dared to bowl a wide after that !
How was the experience of playing for USF in the 2010 American College Cricket Spring Break championship ?
It was great ! The competition at the Championship was bigger than I had imagined !There were so many good players I played against !
I hope it just gets bigger every year and I also hope it gets ICC recognition and Sponsorship (Editor : the Championship webcast was carried by the ICC website ). It was unbelievable to be playing on a live worldwide webcast, just like we've seen for International games !
The Championship really set a high bar for American cricket. College Cricket is the most important thing for cricket in the USA – it gives young players a platform and brings cricket into the huge USA college sports scene.
Sai has since transferred to the University of Central Florida.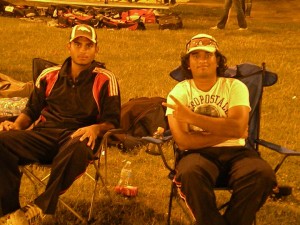 Adil Bhatti (MC) & Saisitaram Ramesh (USF)