My father was born on Feb 25 (coincidentally, Sir Donald Bradman died on Feb 25 many years later ).
Few people know it, but 126 Regent Road is an illustrious address in World Cricket. This is where the Jodah Family lived from the early 1960's,near to Test venue  Bourda Cricket Ground, and the family played an enormous behind the scene role in Guyana and West Indies cricket.
My father, Manoel Aaron Jodah known as Manoo, and my Mom Veronica Pauline, his 7 brothers, especially Moses, Frank, Marcus and Harry and my father's parents, Etwaroo and Veronica, as well as his 4 sisters, especially Elaine and her husband Zaman. Apparently the single sisters were also an attraction, but I didn't get that in my early years. Later my brothers, especially Errol, and my cousins especially Ritchie did their part too.
They took in, facilitated,entertained, nurtured and made part of the family most of the top Guyanese batsmen from the 1960's onwards. The gate, yard and doors of 126 Regent Road (and 125 Regent Rd) saw many of Guyana's greats pass through:  Alvin Kallicharran, Shiv Chanderpaul, Ramnaresh Sarwan, Sew Shivnarine & Len Baichan played Test cricket.
Kallicharran & Baichan scored 100s on their Test debut.
But there were so many more who slept on our beds or floors, ate with us, and played cricket and dominoes with us. (I'm not naming names because they were countless). The Jodahs were extraordinary in their hospitality and generosity.
Later my brother Errol (long after our part of the family had moved from 126) played with his good friend Carl Hooper, Andy Jackman, Timur Mohammed and a 13 year old Shiv Chanderpaul. Errol also captained Georgetown Cricket Club (GCC). GCC was the MCC of Guyana.
In the days before cell-phones in every hand, cousin Ritchie traveled miles to find, and break the news to an incredulous Chanderpaul, that he had to get to the city right away to make his Test debut !
To better your chances to play First Class, cricketers had to play in the city of Georgetown. We lived next to the venerable Bourda Cricket Ground so entire teams sometimes slept in our house at 126 Regent Rd. This custom might have started when a cricketer, Isaac Seunarine unknowingly slept in a morgue (no doubt after some Demerara Rum and/or Banks Beer), woke up next to a dead person, and beseeched my Uncle Moses, who he played cricket with, if he could sleep at his (our) home.
On Test Match days hundreds of cricket players and fans came through 126 Regent Rd, and many stayed for the "after party". Demerara Rum was apparently not only world famous, but also well liked in Demerara, Guyana. ( Demerara is one of the 3 Regions of Guyana).
A local tycoon Peter D'Aguiar, built his fortune on the Banks Beer and Rum consumed at 126 Regent Rd pre & post games.
With my Dad I saw Rohan Kanhai and Gary Sobers, two of the greatest batsmen ever score 150 and 153 at Bourda – to this day I don't think any batsman could devastate a bowling attack, as viciously and beautifully as Kanhai (with NO protective equipment and without knowing the ball was always coming middle to off because of this ridiculous "down the legside wide" rule).
Some times I went with my uncles, other times, like Tarzan, I watched from the trees outside the ground.
I saw all the greats of those days including the amazing Sunil Gavaskar, Jeff "Thomo" Thomson, Denis Lillee, Clive Lloyd, Roy Fredericks, Andy Roberts, Glen Turner, Geoff Boycott, Michael Holding, Sarfraz Nawaz, Gundappa Viswanath,Wasim Raja, Asif Iqbal and others but in 1976-77 unfortunately I saw many days of Test cricket for a tragic reason. I was watching Pakistan play West Indies with my Grandfather, Etwaroo (Johnny or Ole man)) Jodah when we got the news that my Grandmother had died.
With this greatest of loss they had ever known my father and his brothers or sisters could not attend the cricket matches so I saw all the remaining days, guiltily and with a broken heart. This Team was the one that announced the arrival of the 2nd Greatest All rounder ever, Imran Khan (after Gary Sobers). Imran was bowling at over 90 mph, swinging the ball, and willing to bowl all day. Along with him came the extraordinarily beautiful strokeplay of Majid Khan and Zaheer Abbas.
Majid Khan & Zaheer Abbas might have damaged my batting career. As my brother Colin reminds me, I tried imitating the no-backlift of Majid, as well as the high-backlift of Zaheer which in combination is impossible and disastrous.
Ah yes, of my Dad's sons, my youngest brother Errol was good enough to possibly play Tests but stopped at the Under 19 level (because of his job). He was an attacking batsman who imitated Alvin Kallicharran (our "Uncle") even to the extent of batting left-handed (my bro is really right-handed) !
I'm next, as a strokeplaying batsman, ahead of older bro Colin, and late bro Deryck – when Colin reads this there will be a serious argument, and he may even demand an edit ! He will bring up every cricket mistake I ever made ! Every catch I ever dropped – what does that have to do with batting ? He'll say the only time I got to play was when I organized the matches and made myself Captain ! (not true, though Errol agrees with him !).
Abysmal neglect of the Cricket pitches at Queens College (Guyana) made Colin turn to Field Hockey, and he played for Guyana. I tried to become the new Bruce Lee , whilst Deryck utilized the fact that he closely resembled the Bollywood hearthrob Shashi Kapoor to play the field. My sister Jacqueline played tennis.
Then we became Americans or Canadians (Errol)……..
One day years later in Queens,NY together with my nephews, my father, close to 70 at the time, and I had a pickup game. I'm so happy I stood in a short mid-off position to take a photo – I got some great pictures as my father blasted an exquisite off drive past my head ! Like all the Jodahs my father was a talented batsman.
You would understand the measure of my Father if I described his tough life and times,the tragedies he faced,and the strength he faced them with, first with my beautiful Mom, then without her. But he would not want that, because he got up every day, and did what he had to do.
Through all his responsibilities my father enjoyed life, especially through cricket, and meeting Rohan Kanhai was a dream come through for him. Another was watching Errol play at Bourda Cricket Ground, from the hallowed Players' Pavillion. He was selected to be the driver for the Prime Minister of the world's largest democracy India,the great Indira Gandhi when she visited Guyana, and received a gift from her personally.
Whatever the pace, or the pitch, or swing, you have to bat and as I got older I understood better what a great batsman my Dad was, his 74 runs was a masterpiece. And he left a legacy, positive strengths that carry his children forward everyday, with honesty and integrity.
From a cricket point of view if all fathers gave their sons a bit of their legacy, of cricket, the game would be in a stronger position in the USA. If you don't think this part of you is worthy of passing on why would anyone else see the value ? You wear your religion, and send your kids to schools to be educated, but what about the many life's lessons you learned playing cricket ?
And to you, the sons, where is the will to carry on that part of you that is your father, that is cricket?
Thank you Dad, and all of American College Cricket thanks you. I think the fact that I got American College Cricket on ESPN would have ranked up there with sitting in the Members' Pavilion !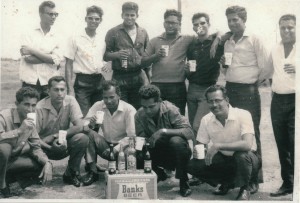 The Gandhi Youth Organisation (GYO) Cricket Team. My father and Uncles' Team.  Aaron,Moses and Marcus are in this pic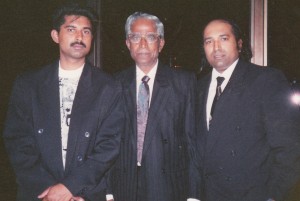 Errol ,Dad and Lloyd -back when hair was cool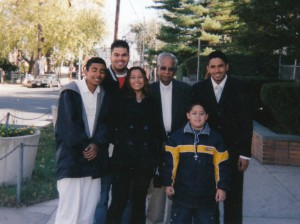 Dad,with another generation of Jodahs, in NY. Chris,Stefan Jaime,Diane,Dylan & Matthew (front)