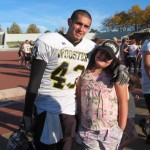 Ian Carlin – # 4 Batsman, Wicketkeeper & Vice-President, Wooster Cricket Club
1.   Where in the US are you from ?
I was born in Pittsburgh, Pennsylvania a.k.a The City of Champions.
2.   Sports you played and now play.
-I was a typical American boy. Growing up I played Football, Baseball, Basketball, and ran Track.I also did other exotic sports such as Semi-Professional Paintball and casual Snowboard. I played football till College. I as intrigued by Cricket, and knew of its massive International following I always wanted to give it a shot so I did.
I currently am Vice-President of the Wooster Cricket Club, and continue to Snowboard during the Season.
3.    What brought you to cricket ?
The lure of the game and a little push from some friends. The passion for the game given off by club members, especially for the IPL and the T20. Along with almost fanatic like support by their fans. I first watched a match between India and Pakistan, and let me tell you I should have remained neutral but I chose a side, but from that exact moment on I was hooked.
From that moment I had to try,but it was not until Junior Year I got the opportunity to try. I started out as a fielder as I had decent skills that transferred somewhat from Baseball, but later in the season I found my true calling,Wicket-Keeping.I also bat at # 4th or 5.
4.   You participated in the 2010 American College Cricket Championship.What was that like ?
The 2010 American College Cricket Championship was a very fun filled experience andreat teaching tool. It taught and gave to our club many opportunities and experiences. It taught us that we have the ability to compete as a small college of less than 2,000 students with clubs that have student bodies in the tens of thousands, however it humbled us to the talent and skill that already exists in the College Cricket scene.
There are many great players that came to the tournament, and gave us a much needed awakening to both practice harder and smarter. The American College Cricket Championship also gave us connections,to other clubs and ed our eyes to a large cricket community that actually exists in the United States today.
5.    In a great breakthrough, Wooster will be having Cricket for HOMECOMING of Students vs Alumnis.What does having cricket for Homecoming mean to the Cricket Club ?
Homecoming is extremely important for this Club. It will allow us to open the eyes of Alumni and Parents and many others to the passion that is shown by Cricketers. It can give us a chance to expose the game and our club so that it may grow and allow us continued support from The College of Wooster.
We've been getting great support from Wooster President Grant Cornwell, and Ambassador Program Coordinator Nicola Kille.
6.   Other plans for Wooster Cricket Club next Semester ?
We are looking to expand next season and participate in a fall American College Cricket Regional Cricket tournament. We'll also have GW and CMU back for another Tri-Tournament. Of course we will be participating in the 2011 American College Cricket Championship.
7.   What do your friends, NOT from a cricket background, now think about cricket- are they more interested ?
My Non-Cricket friends have actually asked a lot about the sport and are interested, it really opened their eyes to how large the sport really is.
8.    You academic background:
I'm a double major in both Political Science and Philosophy and a member of the Educational Policy Committee here at the College as a Student Representative.
9.    Some Personal details:
I listen mostly to Hip-Hop and Oldies, but there is nothing I won't listen to. My favorite movie is Crazy Heart with Jeff Bridges. I'm a massive Pittsburgh Homer for the Pittsburgh Steelers, Pirates, and Penguins.
My favorite IPL team is Kolkata Knight Riders despite their rather unimpressive record and my T20 favorite team is Ireland. I expected India to win the T20 World cup in spectacular fashion!
10.    Any personal heroes ? in or out of cricket.
One Hero for me in Cricket is Ian Healy (the great Queensland & Australian Wicket-keeper/Batsman)
Ian Carlin (left), he worked hard and his athletic ability is uncanny, but his work ethic really taugh me that even I could be a decent cricketer if I just put forth the work needed to be done.
My personal hero is my father, Jim Carlin. He always allowed me to follow any dream or interest I had when I was a child that has made me as diverse as I am today. There is no where near enough words describe what he means to me, but he truly is a Hero, not only for me but because of the great man he is.
Ian Carlin, Toney Clemons (former Wolverine, now University of Colorado Buffalos )
Ian, batting against George Washington U. GWU's wicketkeeper is Abhishek Pansari