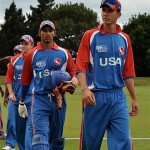 "The funding rejection is due to the current funding policies. Since cricket is still not a part of the multi sport events such as Olympics, it is not a priority under the current rules. It is sad that such a popular game with large numbers does not receive support that it deserves while several other sports with less membership are funded appropriately." Cricket Canada's President Rajesh Saini.
Cricket Canada has regrettably informed the ICC, world cricket's governing body, of its decision to decline the opportunity to host the ICC 2012 U-19 World Cup.

Despite considerable efforts from the organization, which included presentations to all levels of the Canadian Government as well as corporate and private investors, Cricket Canada has been unable to secure the financial support necessary to complete infrastructural upgrades, as outlined in a report from the Dubai-based International Cricket Council.
Ranjit Saini, newly elected President of the organization, expressed great disappointment at an opportunity lost.
"For Canada to be given the opportunity to host the Under-19 Cricket World Cup is a statement from the world community that North America, is the next big thing for one of the world's biggest sports.
To have lost that opportunity because we are unable to secure enough interest from any source is an enormous blow to the sport and a great shame for the many talented young players in Canada. We have thousands of kids in development programs who would dream of playing for their country at home in a truly global tournament.
The ICC report, delivered in September 2009, outlined improvements needed to host an international sporting event.
Contrary to recent speculation, Canada's existing turf pitches could have been returned to playing standard within the ICC schedule, but it was the cost of the additional infrastructure required for the event that proved beyond the organisation's reach in the absence of external financial support.
"Unfortunately, we just had too much to do in too little time, " says Saini. "From the time I became Interim President in 2009, Cricket Canada has been focused on doing everything we could to make this event happen, including setting up a committee that included professionals with the experience to ensure success. We have passion, commitment and talent in Canada, the only thing missing was investment."
Considering the future of cricket in Canada, Saini is more optimistic:
"We have a huge talent base in Canada, and India's IPL has shown that cricket is exciting, fast-paced and will attract TV audiences. I am certain cricket is coming to Canada in a big way."
Cricket Canada has requested the ICC award the U-19 CWC 2014 to Canada thereby allowing the CC sufficient time to secure the required funding.
In his reply to Cricket Canada Lorgat praised the organization stating "We are grateful to Cricket Canada for making what we recognise will have been a very difficult decision but their realistic and responsible approach allows ICC the time to find a suitable alternative venue."
A team from Canada, York University, recently won the 2010 American College Cricket Championship as testimony to the young talent that exists in Canada.
For Cricket Canada's Prseident Saini's complete statement :
http://www.canadiancricket.org/index.jsp?page_id=home
Photo by Daniela Zhareia. USA U 19 Players at the 2010 World Cup (U 19)
Henry Wardley (McGill), Saami Siddiqui & Ryan Corns