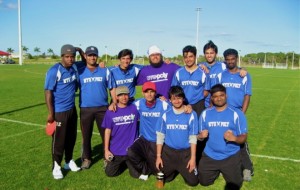 Hello Mr. Lloyd Jodah  and  Nino DiLoreto,
 We would like to thank you on behalf of NYU-Poly Cricket Club for organizing a huge tournament.
Though, this was our first time in the tournament, the championship has brought out our true potential to test. We have learned a lot from the games and were very happy to interact with other university players.
This kind of environment will definitely bring life to a new revolution to sports in America. We never had a problem throughout our stay there.
We had a great time in Fort Lauderdale. It has been a different experience for all of us. We are all set to come over there and take the championship next year.
Once again, we would like to thank you for organizing such a wonderful event.
truly,
SUMANTH VARMA KALIDINDI
On behalf of NYU-Poly Cricket team and Club