Dear Lloyd,
Congratulations on another successful tournament!
The Wooster team made it safely back to Northeastern Ohio, and some of them stopped by my office today to share their excitement at being part of the event of the last week.  It seems to have been a true growth experience for some of  them – from the fundraising and organising a proper team (rather than people who randomly show up to play) to the travel, talking to the press, and meeting fellow cricketers from all over the world. 
 Our US-American players were especially happy to have been part of this and  to have been so welcomed by your organisation and the other teams.In fact, one of them will be serving as our team Vice-President for the nextacademic year ! This will be the first time that an officer of the Cricket Club has not been an international student ! 
The team also shot a video about their experience – I'll be sure to send you the link as soon as we have it edited and posted online.
We appreciate having been part of this tournament.  The guys were thrilled by their close matches, and embarrassed (and inspired) by some of the not so close ones!  They were excited to have played their first ever international match against York U.  
And they seem to have made some good contacts for future matches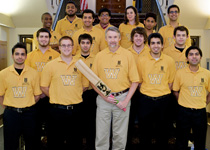 – in fact a couple of teams are planning visits to Ohio to play against
us during April. 
I would again like to thank you for letting the College of Wooster participate
in this outstanding event.  We would like to come back next year – hopefully
I'll be able to travel with the team then, and will get to meet you in person.
Take care,
Nicola
Nicola Kille
The Ambassadors Program
The Center for Diversity and Global Engagement
The College of Wooster
Wooster, OH 44691
www3.wooster.edu/ambassadors
www3.wooster.edu/oisa
www.wooster.edu/en/Offices-Directories/Center-for-Diversity-and-Global-Engagement.aspx